Why Car Enthusiasts should make their own Car Portraits
Every car lover is always looking to augment their collection of cars, be it through actual cars or renditions of them. It is in these renditions that custom car portraits come into the picture.
Car Portraits are unique and inspiring, but the question is why car enthusiasts should make their custom car portraits, and we answer that in this article.
What are custom car portraits?
Custom car portraits are styles and aesthetics that are created as per the client's personal preferences. More so, they can be ready-made, unique, and handmade custom pieces you can buy from a wide selection of options.
The works are specialized, and the tools used may be pencils, paint, or crochets.
Plus, they are prints of your car that you can keep indoors. You can also have them in living rooms behind glass cases or even in office spaces and under your garage roof besides your car.
Why should you get a custom car portrait?
They can be beautifully crafted to reflect the car enthusiast's passion and personality. They can fit into the theme of the room they are put in. They liven up the place and represent a car enthusiast's owner's home.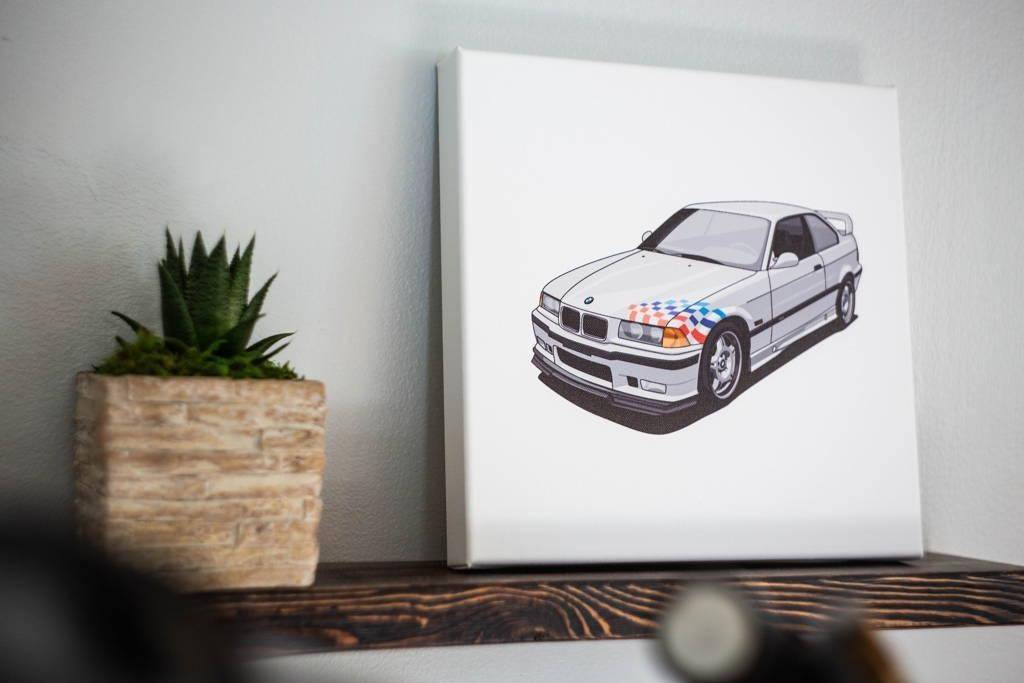 A blank slate on which you can print your car canvas, your very own personal art. Draw your room and color it with custom car pictures and car art posters.
These brilliantly crafted and designed custom car artworks offer many opportunities to synergize with your car and the room's theme.
You can perfect your car portrait by recreating the car down to every detail and feature. These handmade artworks are specialized to be detailed, precise, and specific to your particular car.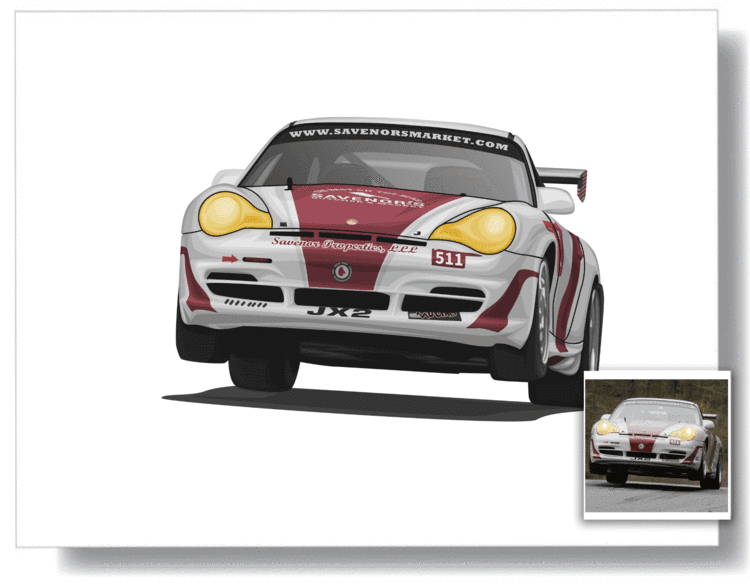 The minute details that fellow car enthusiasts have put their souls into not only brings the recreated car further into life but makes it even more special.
It can be a unique creation, with particular backgrounds and sets of hand-woven themes embedded that are suited to your particular vibe and style. Thus you have an opportunity to be recognized and seen as the person you feel you are.
You can order it as a gift for your loved ones as well. It is a perfect gift for those who like cars and know the ins and outs of their vehicles.
You can make your loved one's day much happier with such a unique hand-crafted gift that shows so much appreciation and love.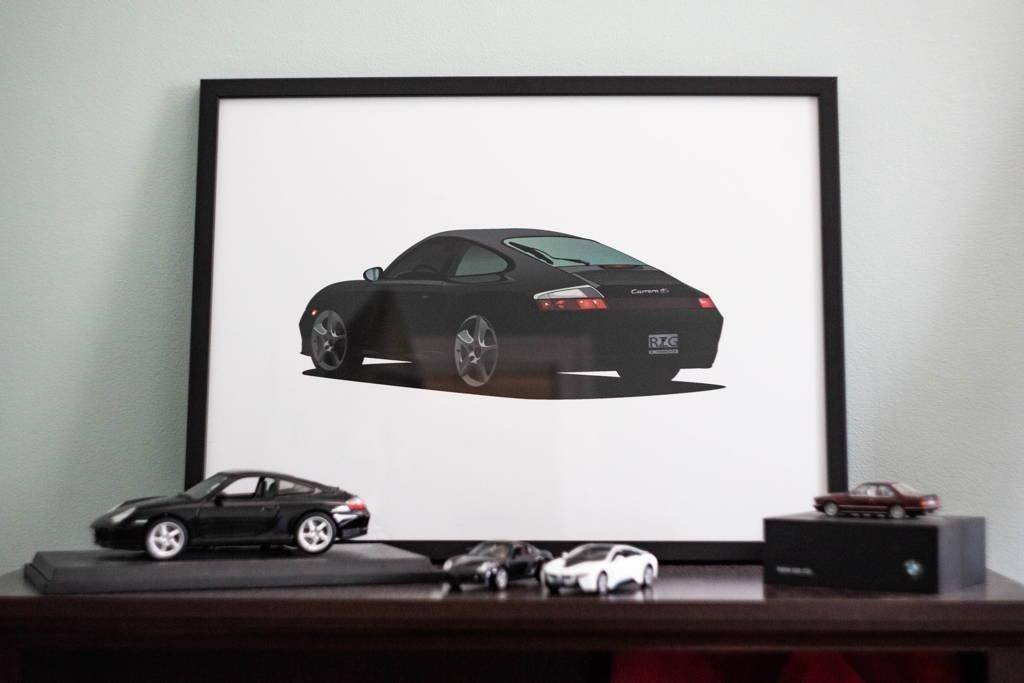 If you want new décor at your garage or feel it is too empty and barren. You can liven it up and give it a newfound feeling by ordering or making a custom car portrait that reflects your enthusiasm and passion for your drive. It will bring the entire place together with such a minimalist yet beautiful addition.

To sum it up, you want to order a custom car portrait for these reasons:

- Reflect owner's passion and personality.
- To liven up the place and synergize with the aesthetic theme of your home.
- A piece of artwork in your home adds value and a unique temperament to the home.
- You can order it with attention to precise details and personal flavors.
- It shares a fellow car enthusiast's hard work and passion too.
- Suited to your vibe and style.
- You can order it as a gift for your loved ones.
- To bring your place together with only a minimal addition.
What Are the steps to getting a custom print?
Firstly, you have to upload a photo of your car.
These are some tips to ensure you shoot the best possible photo.
1. Shoot at the angle you want drawn and illustrated.
The artists use your image provided to recreate the art. For this reason, the angle you take the picture with is critical.
2. Shoot in full sunlight and minimize the presence of shadows.
This makes sure that your car's vibrant colors and aesthetics are visible.
3. Always use a high megapixel and quality camera for a clear and perfect picture.
The higher the resolution, the better and more detailed the artist's work will be.
Secondly, you have to have the picture you selected approved. You can upload the picture on this website.
You have many options for sizes. They range from 8x10 to 18x24, and the types of portraits can be as varied as a poster only, framed poster, or a canvas print.
Then you select the quantity you would like, add it to the cart, and get your artwork approved from the website. Customers can have unlimited revisions before printing the portrait. After choosing what you like, you will be sent a tracking number.
Thirdly, and lastly, the custom art gets printed and shipped to your doorstep or the doorstep of someone you gifted. You can now display your finished art.

Where should you preferably get a custom art portrait from?
Our recommendation is www.respokecollection.com.
They offer the highest quality works and are specialized in custom car portraits that will suit your needs.
So don't wait and order now! Your custom car art is waiting for you.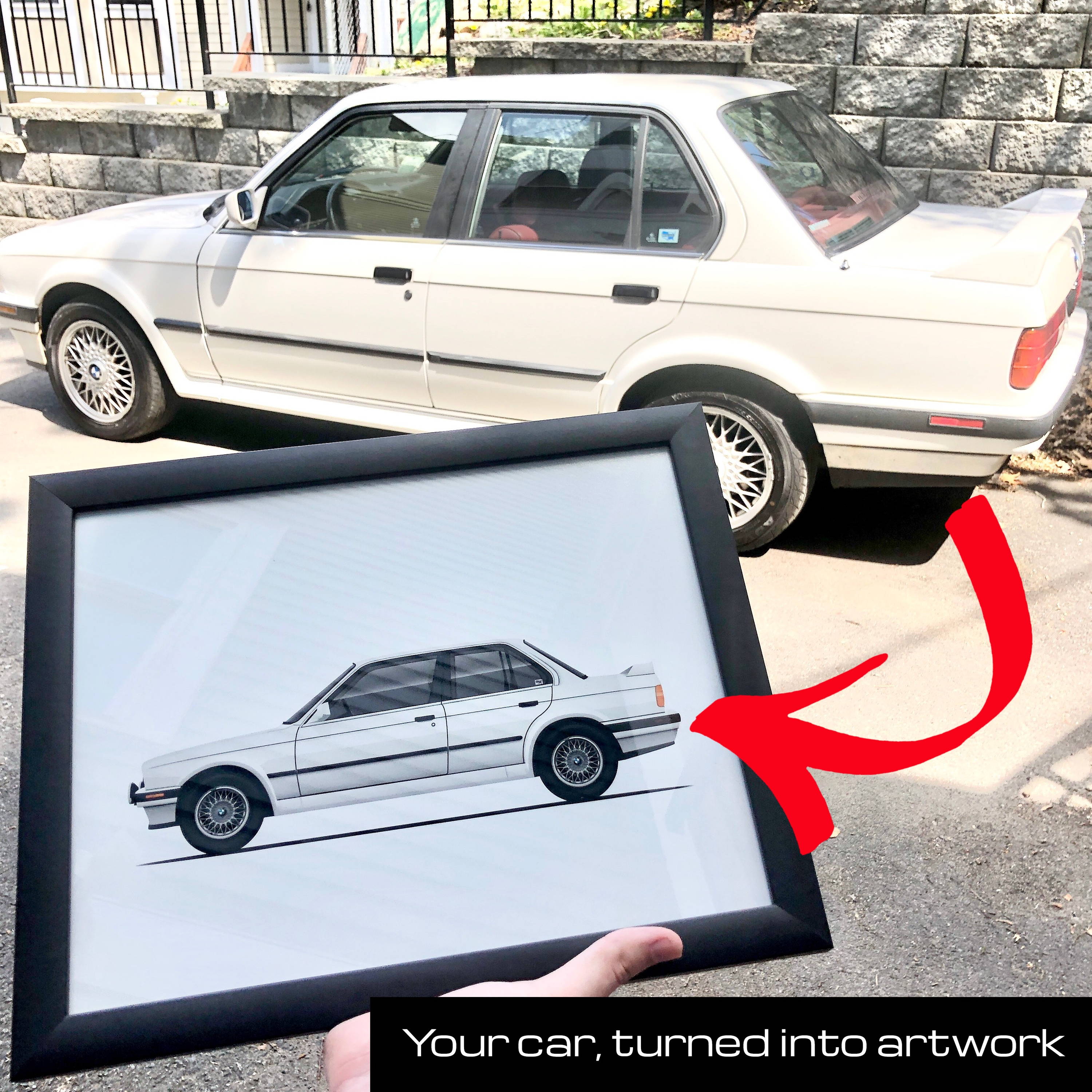 Now you have read an entire article worth of custom car portraits, it's time to take the next step.
Most of all, you know what to get when you want to stand out and make them feel special. And what you get then is a custom car portrait from Respoke Collection, with love, care, and the portrait of a perfect car.